This year's 2-day SCACR ringing courses (27/28 Oct 2017) have now come and gone, with excellent progress made by those who attended the 'Developing Method Ringing Skills', 'Getting to Grips with Grandsire', 'Plain Bob Doubles' and 'Starting Surprise' courses.

These special intensive courses rely heavily on the support of experienced ringers who give their time to support the training of others and we're very grateful for everyone's help over the two days. Special thanks to Anne Franklin for her work in organising everything this year.


The annual 2-day courses provide intensive practice in a particular subject area and are a great way to improve your ringing, so make sure you look out for them next year!

In the meantime, we arrange short courses throughout the year where there is a demand to cover a subject. If you have suggestions for courses you'd like to attend in the next 12 months, then do let us know.'
The SCACR Facebook group was busy with comments from happy and fulfilled students, helpers and teachers. Here's a selection of the highlights:
Rob: What a most enjoyable couple of days helping the surprise group on the ringing course I've had. Really good to see Mary, Sue, Susannah and Guy make some fantastic progress with their ringing. A huge thank you to Jeremy for leading the group and to all the helpers for their support
Susie: Fabulous couple of days - thanks to everyone...especially Jeremy for running it so well.
Sandra: Congratulations to all the students on the 'Starting Surprise' course who all made progress in leaps and bounds conquering Cambridge and Susie ringing Pudsey. Highlights included the Cambridge Place Mexican Wave, Pudsey ears and bacon butties! Well done all
Matthew: A big thank you to all the patient helpers and friendly course mates who work so hard at the "Getting to Grips with Grandsire" course over the past two days. A really useful intensive course with good progress made by everyone! #controlisthegoal
Margaret: A huge thank you to all the students and helpers who worked so hard on the Bob Doubles course. We've had a brilliant two days and I really enjoyed it - I hope everyone else did too!
Fiona sent in a report on the Developing Method Ringing Skills course: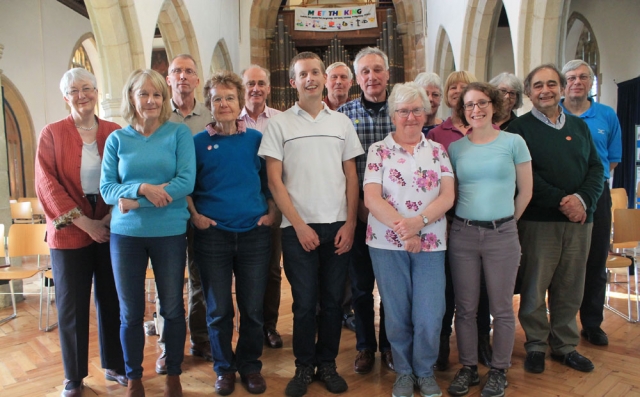 On 27th October, six slightly nervous ringing pupils gathered at All Saints Church in Danehill. We were met by Elaine Farrow who was leading the course and her band of volunteer helpers. All apprehension soon vanished as we could not have been made to feel more welcome.
The course was based around Kaleidoscope works which covered Place Making, Long Places and Dodging; some Plain Hunt was covered, too and that tricky one (which all of us felt we had progressed in), Ropesight. Elaine also was able to point out bad habits and help us try to rectify them – a pretty tricky task (in my case, particularly!).
We all thought it was an excellent course and that Elaine was a brilliant tutor. The amount of time and patience spent on each individual student was more than we had expected and she managed to get the balance just right between individual tuition and creating a nice team spirit. We were also very, very fortunate to be in the company of so many experienced, encouraging and enthusiastic helpers who were all ringers at the top of their game. And the fact that they had given up two days of their own free time was more than generous. Oh, and those cakes, flapjacks and rice crispy things that they had baked...... So very kind.
We felt it was most enjoyable two days - well organised and thought through and given that there was a broad range of abilities, very well handled. At the end of the two days we felt more confident in our ringing and full of enthusiasm. Let's hope our Tower Captains were as pleased as we were! Fiona Stapley